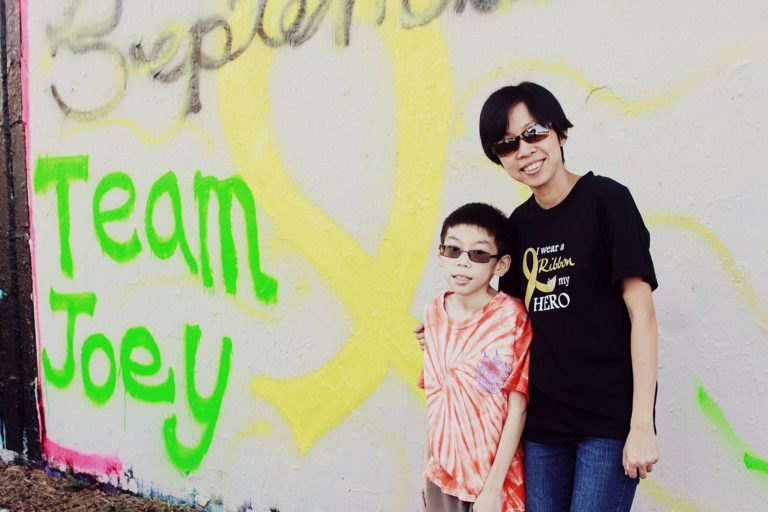 When Chris Tomlin came to town last year, I was so determined to write him a letter. I wanted to tell him how his music touches my heart and impacts my relationship with God. I wanted to tell him how his music pulls me through the darkest days of my life. And I was determined to ask him if he could contribute a song in his concert to the children who are fighting cancer and to those who passed. Then I hesitated. I had never been so hesitated like this before. I hesitated. I hesitated when I pictured the concert in my head: At a concert to worship God, a concert to praise God, suddenly images of children with no hair appear on the big screen. This would upset everybody! Nobody would like to see this!
I shocked myself, even as a cancer mom, I feel guilty that childhood cancer will upset people! Then I realize this is why children cancer can't get funding. Because childhood cancer is so sad, it is so so sad, that people don't want to talk about it. Because people don't want to talk about it, we believe it is rare. Because people believe it is rare, we don't work hard to put money on research! This is the vicious circle of childhood cancer. This is the very sad true fact of childhood cancer!
Let's see how "rare" childhood cancer is. Each year around 13,500 children are diagnosed with cancer in the U.S. 35,000 children are currently in treatment for cancer. In the U.S., one out of every five children with cancer will not survive. Cancer kills more children than AIDs, asthma, diabetes, cystic fibrosis and congenital anomalies combined.
Let's see how we put our efforts to fight this No.1 disease killer of childhood in the U.S. Less than 4% of the National Cancer Institute's budget is directed to childhood cancer research. In the last 20 years, only two new drugs have been specifically developed to treat children with cancer. Some pediatric brain tumors, such as brain stem gliomas and pontine gliomas, are terminal upon diagnosis and no new protocols have been developed in 30 years. Many pediatric cancers, are terminal upon progression or recurrence.
Ever since Joey's diagnosis, everything in my eyes is sad. The same beautiful blue sky of Florida is sad. The trees at the front yard are sad. Flowers, birds, squirrels, everything is sad. Even the air is sad. Childhood cancer is sad, it is so so sad that a survivor's story will get thousands of likes, a lost life gets prayers, yet we expect the family to get over it. NO! They will NEVER ever get over it! The loss of a child to cancer is one of the worst tragedies a family can face. People put better words to comfort the broken hearts. "Too much suffering on earth." "Someday we will all be there." No matter what religion you believe, a child dies from cancer, not because God doesn't answer the prayers, not because this is God's plan, not because God's grace is not enough. A child dies from cancer because we don't do enough, because we ignore the fact that childhood cancer is NOT rare, because we fail our children! This is MORE sad than the childhood cancer!
When friends see me, they often tear up, hugging me, and ask, "What can I do for you?" I don't know how to answer. Now I have answers for you. My dear friends, it's time to take a stand. I'm writing this not for my child. I'm writing this for your child, your child's child. They deserve a bright future of dreams. They deserve equal opportunity to grow up like a kid. But who can make this happen? Not me, it is you! It is each one of you!
So here is my ice bucket challenge for you. September is back to school month. September is also Childhood Cancer Awareness Month. Think about those children who are in hospital going through chemo, radiation because of this hideous disease. If you can do one, or two, or even three of these things every month, every week, you can make a difference to save a child's life!
You can replace your profile picture with a gold ribbon in September;
You can buy awareness items to spread the words; (http://www.momcology.org/sitepage/awareness-items)
You can make a donation to a foundation like the St. Baldrick's Foundation, which is committed to funding the most promising research to find cures for childhood cancers;
You can sign up for race or walk to support Curesearch;
http://www.curesearchwalk.org/faf/search/searchTeamPart.asp…
You can write to your congressmen asking for more government funds on childhood cancer;
You can donate to the MaxLove Project, which is a nonprofit organization that empowers families fighting childhood cancers and life-threatening conditions with whole-body wellness resources, education and research.
If you are an amazon shopper, you can select a childhood cancer foundation like The Ethan Jostad Foundation as your charity, go to http://smile.amazon.com/ and part of your spending will go to them;
There are many other things you can do every day in September to be an advocate for children fighting cancer. If you are willing, next September would be the month we see gold ribbons flying everywhere just like the pink ribbons in October. If you are willing, Empire building would light up gold for our children. If you are willing, government will finally listen to our voice. If you are willing, some suffering can be stopped and lives can be saved!
I never write the letter to Chris Tomlin, instead I'm writing this letter to you. Because our children are dependent on you. Because it is you that will make the change. I'm listening to Chris Tomlin's CD Passion right now and ask myself what my passion is. Since Joey's diagnosis, I have lost all my passion of life. Cooking, movies, reading, shopping…I can't concentrate to do anything I used to enjoy. All my passion is to find a cure for him. Yet where is the cure? If we ignore the very true fact of childhood cancer, if we remain indifferent to our children's suffering, if we don't advocate for them, there would be no cure for my child, there would be no cure for your child!
Dear Lord, your grace is ENOUGH, but our efforts is NOT. I pray for miracle, pray for healing and pray for strength. Miracles do happen, but they happen for a reason. I don't know where you will lead me in this journey, but I know you will empower me with your words. Bless our children, Lord, and watch those with you.