Joey's Wings Foundation collaborates with Tutors Without Borders to provide free tutoring service by Zoom for children battling cancer. Tutors Without Borders is a student run organization designed to promote education throughout the world. It was founded in the summer of 2019, comprised of students from 8 high schools in Southern California. TWB tutors have deep passions for teaching and helping others in need. The organization has a COVID-19 private tutoring program for elementary to freshman students, tutoring a bunch of different subjects like English, math, science, art, music, and more. Each tutor is well equipped to teach their subjects and love to educate students. You can find out more about Tutors Without Borders here: https://sdtutorswithoutborders.weebly.com
Joey's Wings also works with Tufts University to recruit tutors.

Joey's Wings tutoring is a virtual friendship program. These are the subjects we provide:
Gaming (Minecraft, Among Us, Pictionary, Card Games)
Art (origami, arts and crafts, painting, etc.)
Book club (Percy Jackson, Harry Potter, Hunger Games, etc),
Creative writing (storytelling, character arcs)
Trivia games (different topics each week, Kahoot-style quizzes) Biology/animal studies
Subject tutoring (homework help, English/math/science one-on-one tutoring)
Chess (online games against a tutor/other students)
Improv/acting (improv games, script reading, play analysis)
Karaoke (sing-a-longs)
Baking/kitchen chemistry, etc.
Your child doesn't need to be in active treatment to get this free tutoring. If your child is or was fighting cancer, you are welcomed to try!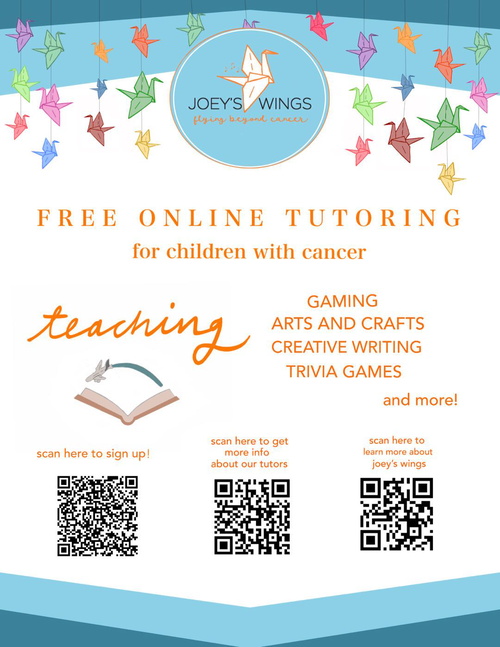 Testimony from Parents
"We have been working with Katie Wang since late last year. She is amazing!" – Parent from Texas
"I appreciate you teaching my daughter." – Parent from New York
"This program is great! My son would look forward to his tutoring sessions. Zoey was really sweet and patient with my son." – Parent from Florida
"Michelle was our tutor and she's great! She's dedicated and very friendly. We really appreciate her help!" – Parent from Texas
"Our tutor, Ella is very kind, lively and patient. She is so great!"
"My son enjoys his class with Ella very much. He not only made academic achievements but also learned to interact socially."
"My daughter loves Anna's class. She likes drawing, doing craft, playing drawasaurus, and simply chatting." – Parent from Texas