September is childhood cancer awareness month. In the US, 46 children are diagnosed with cancer every day and 1 in 5 children diagnosed with cancer will die of the disease. In 2014, it is estimated that 15,780 children and adolescents ages 0 to 19 years were be diagnosed with cancer and around 2,000 died of the disease in the United States.
Joey's Wings displays 2,000 origami cranes in through the country to honor 2,000 children whose lives are taken by cancer each year in the US. Each origami crane is beautifully folded and put into strings with beads and other hand-made ornament. 2,000 cranes will be displayed as a piece of art to raise money for advancing research dedicated to childhood cancer. After September, they will be displayed in public places like museums, libraries, churches, grocery stores, restaurants and businesses.
The crane in Japan is one of the most mystical creatures and is said to live for a thousand years. It represents a prayer and a wish for recovery, hence a powerful message of joy during a very difficult time. The ancient Japanese legend promises that anyone who folds a thousand origami cranes will be granted a wish by a crane. We do 2,000! Two wishes are granted, CURE and CURE!
Display at the San Diego Convention Center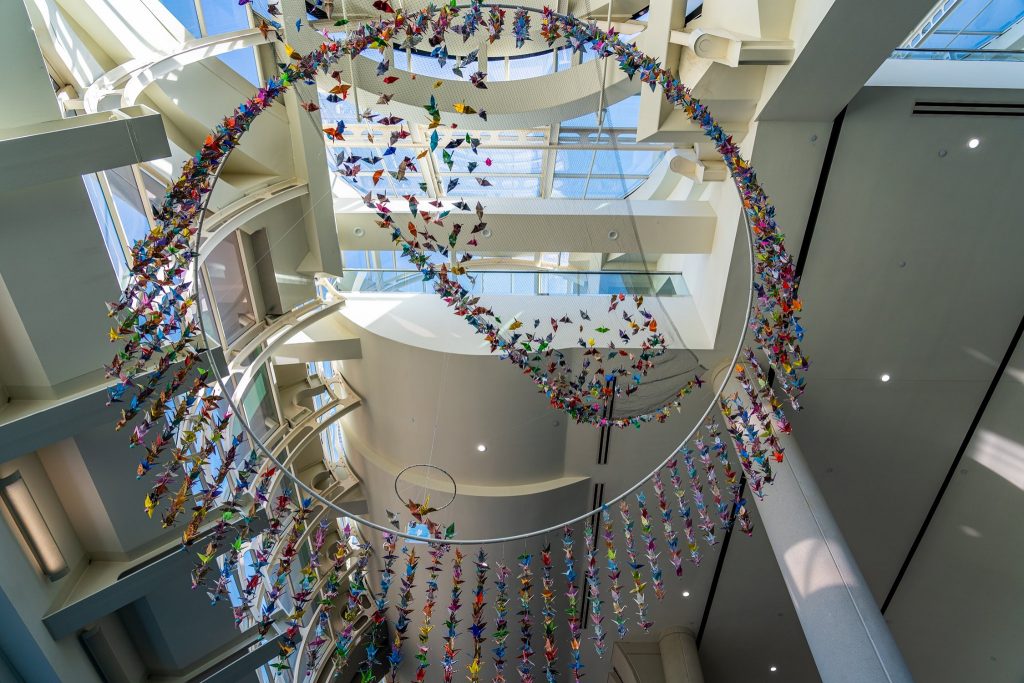 You're invited to a special Media & Community Viewing Day on Oct. 10th, 2019 from 4-6 pm at the Lobby D of San Diego Convention Center! Please come see >2,000 cranes, take some pictures, post on the social media and spread the awareness! Pediatric cancer only gets 4% of the research funding from the federal government, yet every year around 2,000 children die from cancer in this country. Children battling cancer don't have voice. They need YOUR voices!
Display at the Eli Lilly, Indianapolis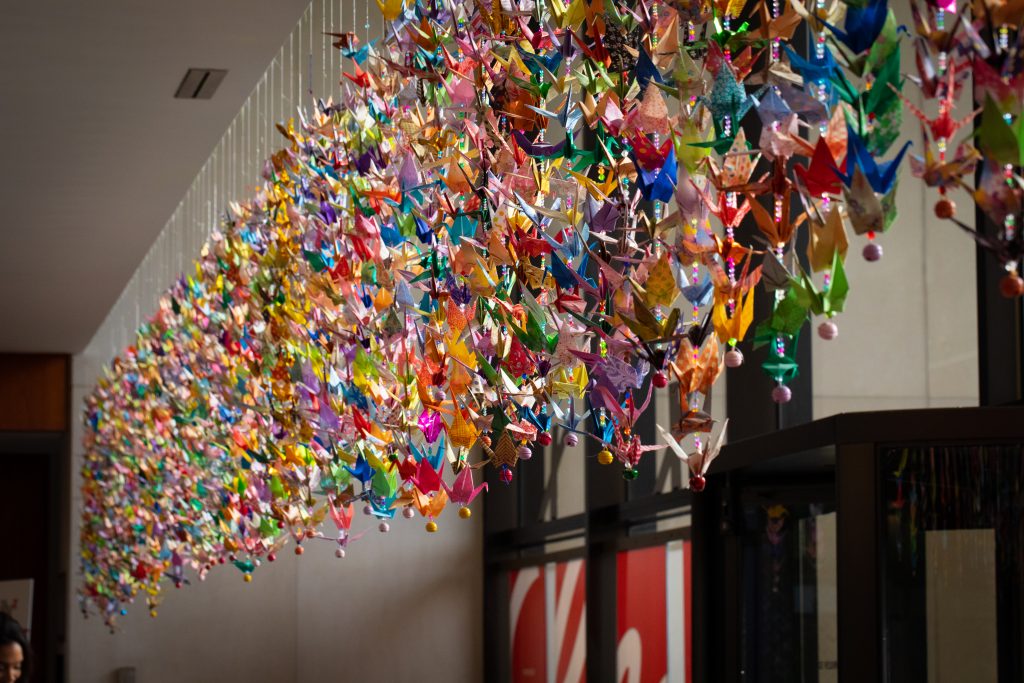 2,000 origami cranes are displayed at the Eli Lilly headquarters at Indianapolis. Cranes will continue to travel to all Lilly locations. 2,000 lives of children lost to cancer a year in the US. Let's include children in the early studies of drug development!
Display at San Diego Children's Museum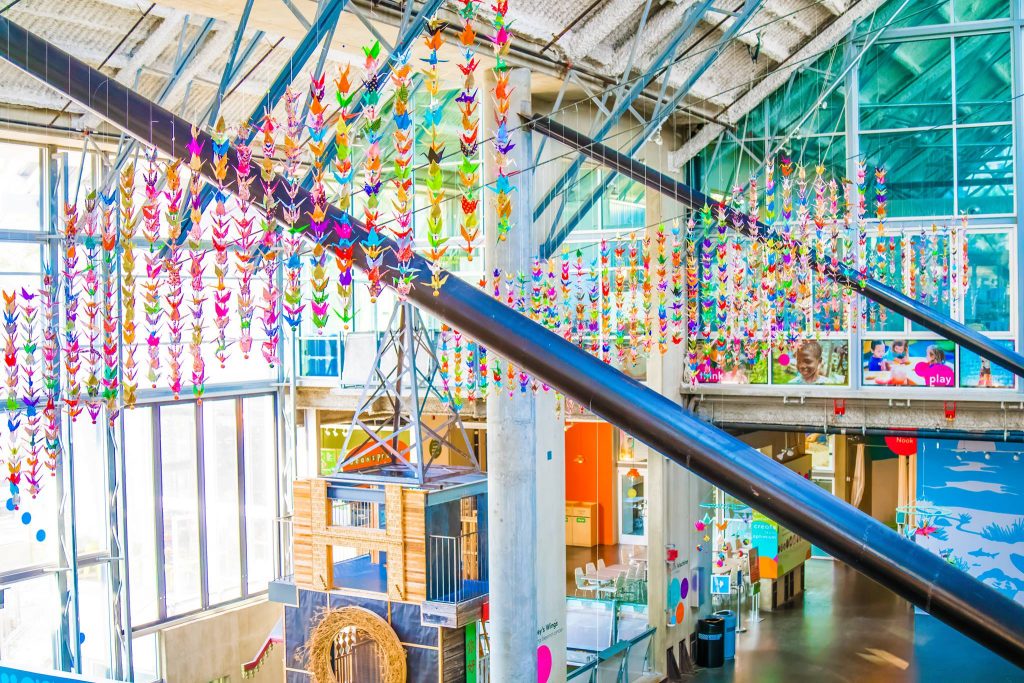 From September 6 – October 2, 2017, the New Children's Museum of San Diego displayed our 2,000 (more exactly 2,200) cranes for childhood cancer awareness. September is childhood cancer awareness month and 2,000 is the number of children die from cancer a year in this country. On Saturdays of September, museum hosted 4 sections of origami workshops. We sell some crane earrings and strings at the museum's gift shop. The New Children's Museum of San Diego is a dynamic new model of a children's museum that provides inventive and engaging art experiences that are meaningful to children and families.

We will not stop until one day the wish is granted: cure childhood cancer.
Sharing Hope – art & healing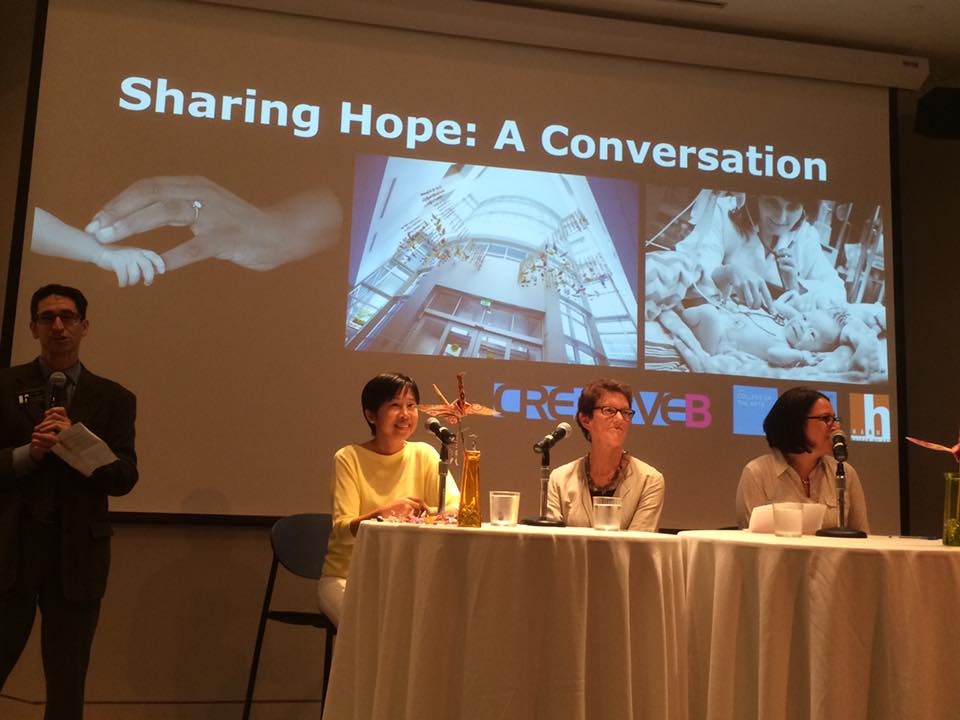 This exhibit opens on Jun. 29th – Aug. 5th, 2016 at the Harn Museum of Art in Gainesville, Fl. The education display includes photographs by Joyce Pearson and Stacey Steinberg, as well as a communal origami project that exemplifies the power of art to raise the spirit as a resource to illness, aging and death.