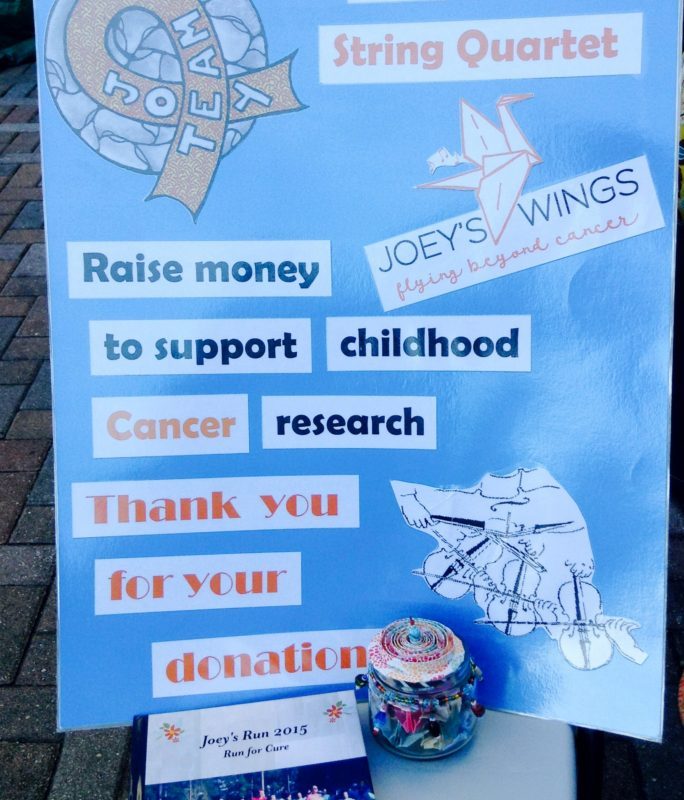 Life is getting harder and harder. Even when I'm busy, I feel like an empty shell with a lonely soul wandering around. The hardest part is to watch the loved ones suffer in front of your eyes. Now he doesn't suffer anymore, leaving me a lifetime of pain. No matter how hard I work to turn that pain into something positive, I can't make the broken part of my heart complete. That part is forever with him in heaven.
I see the impact of his passing everyday, including the impact on his friends, which I honestly didn't expect, because they are kids I thought. They will move on making new friends and forget. I was wrong.
Lucas and Joey had never been in the same class from kindergarten to fifth grade, but they did a lot of things together, painting, violin, Lego mindstorm, math team…Lucas is a sensitive child, while Joey had laid-back kind of attitude of almost everything, including cancer. I heard from Lucas' mom Sharon that he never ever touch his Lego mindstorm set after Joey's passing, because he wants to keep the model the same as they played the last time together.
A child of Sharon's friend in China wanted to ask Lucas what American kids like to do and what Lucas wants to be when he grows up. Lucas wrote the kid a letter. Sharon showed me the letter the other day. I couldn't stop tears.
"The life I want is the life of a cancer researcher. The reason I would like to be a cancer researcher is because my best friend and my former violin teacher passed away due to it. Another reason is my mother and some of her friends had it. My friend passed by the cause of kidney cancer even though he got treatment. He clung to the hope that he would try to pull through even at death's door. He tried every treatment available and the side effects were sad to see on him how eager he was to play with us but it was too painful for him to do so. My former violin teacher passed away due to colon cancer. He continued to teach me until he couldn't get out of bed. My heart still aches to remember. My mom and one of her friends had breast cancer. Her other friend has leukemia. I hope that people won't have to go through the nervous anxiety that I had to go through waiting for my mom's results came out. I also want to be a cancer researcher to help develop a better and more effective cure than chemotherapy or radiation because those are as harmful to your body as much as they are good. I will also be able to do experiments to test the efficiency and if it is safe like you do in science. I like testing and then modifying to make it better. I hope that nobody else if it is possible will be lost to cancer if they are treated because of the side effects. I would try to work hard to develop something that doesn't have that many bad side effects. The career path of a cancer researcher is the life I would like to take."
You can see how cancer impacts a 11-year-old so deeply. He is so determined about his future career even he is only a fifth grader. Luckily, Sharon was misdiagnosed and it's not cancer. But that misdiagnose has left him anxiety and fear, especially after Joey's passing. But Lucas decided to turn that fear into action.
Joey and Lucas played in a string quartet together. Last month I heard that there is an art walk downtown last Friday of each month, Joey's quartet friends decided to play there to fundraise. But it was pouring that day. They couldn't wait until the last Friday of April came. Since it is the first time they will do it, Sharon suggests probably we will just go and see where is a good spot and next time 4 kids will be better prepared.
We went last Friday, but Lucas brought his violin. We found a good spot in front of Mochi and Lucas started to play. I also brought origami cranes to sell. I forgot to bring any chair. He played there from 7:30pm to 9pm and later I just found out he didn't eat any dinner because he just came from the skate station fundraising night.
When I asked him to take a break, I gave him my ipod to play. I forgot I have Joey's videos in the ipod, the video of Joey playing quartet with Lucas. Lucas was crying, sitting on the floor and I just realized he is watching the video. My heart ached. He then told Sharon, "I know where Joey is playing violin now and which song he is playing."
That night I didn't sell a single origami, but Lucas fundraised $50. Lucas was excited and counted the money in the car. The next day, he has a math competition. We had a successful night although I didn't sell a single crane and David was nagging the whole time he wanted frozen yogurt. We will be more prepared in May.
Lucas decided he would have his own personal fundraiser under Joey's Wings. The quartet will go to play anywhere they are allowed to. And I told him I would find a better stage for him someday. I will.
I'm planning a benefit string concert in September, which is the awareness month of childhood cancer. I started to write letters to the celebrity, but there is no reply so far. How am I going to pay the fee of venue and sell tickets without celebrity?
Today I am watching again this video Joey was playing quartet with Lucas just two months before he passed, and I told myself, If I can't have a single celebrity, let these kids be the celebrity. Joey's friends teach me what is passion, love, friendship and determination. I will do all I could to let the gold ribbon fly on the stage. I will do all I could to let the world know childhood cancer can destroy almost everything of a family, but can never take away the spirit. I will live the best out of it because no matter how hard life is, when I think of Joey's friends like Lucas, that forever whole in my heart seems not so daunting.
Thank you, my friends, for loving Joey!