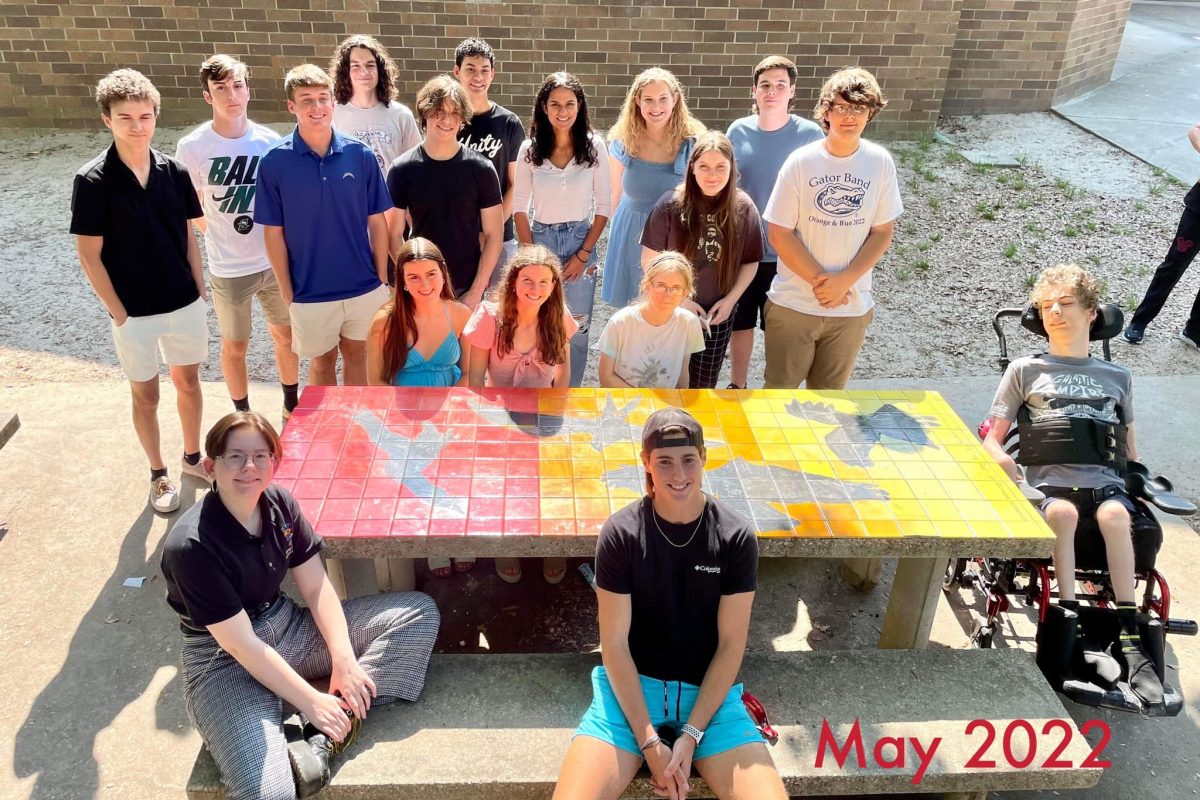 Season of graduation and prom. I dread, especially this year when Joey's friends graduate high school. Each prom picture at news feed is the harsh reminder of the profound loss of future hopes and plans. Each graduation picture is telling how life should normally unfold. It is impossible to understand how a death of a child fits into the scheme of life. I miss him so bad. It hurts.
Then one day, friend in Gainesville sent me this photo.
After 7 years, Joey's friends, graduating high school today, went back to Talbot Elementary School where they spent 5 years of time with Joey. They stood around the same picnic table, which was made from the tiles painted by each 5th grader at Talbot into one of Joey's arts in 2015.
The moment I saw this picture, I burst into tears.
These were not the tears of sorrow, tears of bitterness or tears of self-pity. Yet they were the tears of appreciation, tears of pride, tears of hope and tears of joy.
Joey and his friends are separated by death doesn't mean they have to live without his presence.
I found the other picture in my phone they took 7 years ago in May 2015 when they were graduating elementary school.
When I looked at these two pictures, I was amazed how time could fly by so fast at one sense, but relentlessly so slow in the other sense of agony and struggle.
The second picture in 2015 was taken about 6 months after Joey died. In the first year, I managed to survive every day. I was suffering to believe that my life left has any value without Joey. I wanted to die.
But Joey's friends saved me. That picture saved me. I breathed. I lived. I started Joey's Wings. The love surrounding me helped me realize: as a parent, you gave birth to life as a promise to the future. Now that promise is broken. I must make a new commitment to living, as hard or impossible.
7 years later, they're wrapping me up this unbelievably hard milestone.
I have learned a lot in the 7 years following Joey's death. But the most lasting life lesson is this: The love I have for Joey is not ended but rather the relationship continues in a different context, for it's not how he died, but how he lived.
Thank you, Joey's friends! Go live fully your new chapter of life! Carry and continue Joey's dream. Life is a privilege. There will be difficulties in life. When you encounter them, think about Joey's fight. Think about how you pulled me through the darkest days. To live, to breathe, to wonder and desire,
Live a great story!